2019.11.20 16:30
【Four Performances】Stories, from daily life to fantasy.
Date: 2019.11.20
Time: 16:30
Venue: GMDC Theater
---
Ending the Endless
Guangzhou - TAN Dance Theater
Duration: 10 mins
Description
There is a hollow in the reality, transparent, obsessed and psychedelic.
It seems all is brought to a halt, lingering on light and shadow without dream and happiness, yet no one aware.The responsibility looks humble, and the drifting time is fragmented.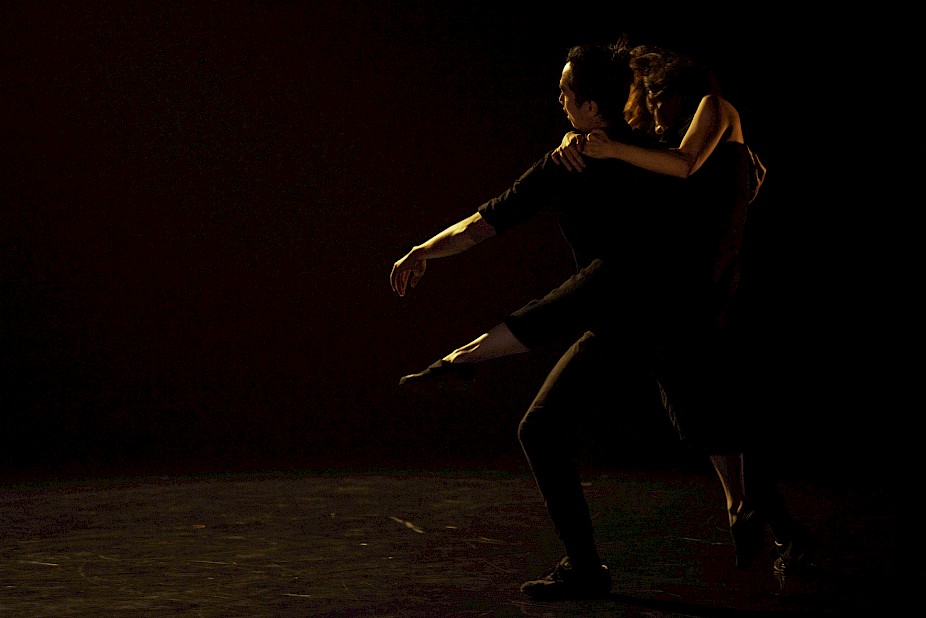 TAN Dance Theater
TAN Dance Theater was founded in 2018. Mr. Tan Yuanbo is the founder of the theater. It covers dance performances, dance films and lectures on "Speech and Body Program". The core of the study is to examine and deconstruct the body in a multi-dimensional way, and to explore the ways of human movement and exertion, as well as the relationship between body and society and culture in a multi-dimensional way.
Li Pianpian
New Wave Dance Artist, Emerging Choreographer, Freelance Dancer. From 2007 to 2019, she served as a dancer, choreographer and artistic coordinator in the Guangdong Modern Dance Company. Li Pianpian collaborated with numerous world-renowned masters in contemporary dance. She danced globally with the Company, touring to different cultural events as the "Grand Performances" in Los Angeles (US), the Aarhus Festival (Denmark), the Braunschweig World Dance Festival, the Kuandu Arts Festival (Taiwan, China), the International Arts Festival Europalia, etc. In 2013, Li Pianpian collaborated with Tan Yuanbo to create a full-length dance piece, Point Zero, for the Guangdong Modern Dance Company. In 2015, Point One was developed on the basis of Point Zero. In 2017, Point One was supported by the China National Arts Fund.
Tan Yuanbo
Tan YuanboFounder of the Tan Dance Theatre, Emerging Choreographer, and Freelance Dancer.Once a professional dancer of the Guangdong Modern Dance Company. In 2011, Tan Yuanbo carried on his career in contemporary dance as an independent artist. He received numerous invitations from dance festivals and dance companies across the globe to present his artistic conception through performance and choreography.
His dance pieces Remove, Never Ending, E Rain Sun were invited to many international art festivals. His work Yu…Mao (literally as Give…Spear) was presented in the Chinese Dance for 12 Days, a project for showcasing young choreographers' works co-organized by the National Centre for the Performing Arts. He visited Edinburgh for nine weeks to participate in the creative process and the tour performances with Janis Claxton Dance. He collaborated with Li Pianpian to create a full-length dance piece, Point Zero, for the Guangdong Modern Dance Company, and Point One was developed on it. In 2017, Point One was supported by the China National Arts Fund.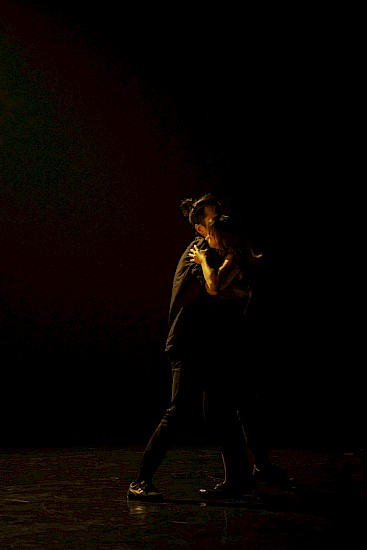 ---
The X Fullmoon
Guangzhou - Su Zihao
Duration: 17 mins
Description
We experience repetition all the time,
repeat the same ting with different people.
However, do we realize that we are repeating? Is it really repeating?
"How many more times will you watch the full moon rise?
Perhaps twenty, and yet it all seems limitless"
——The Sheltering Sky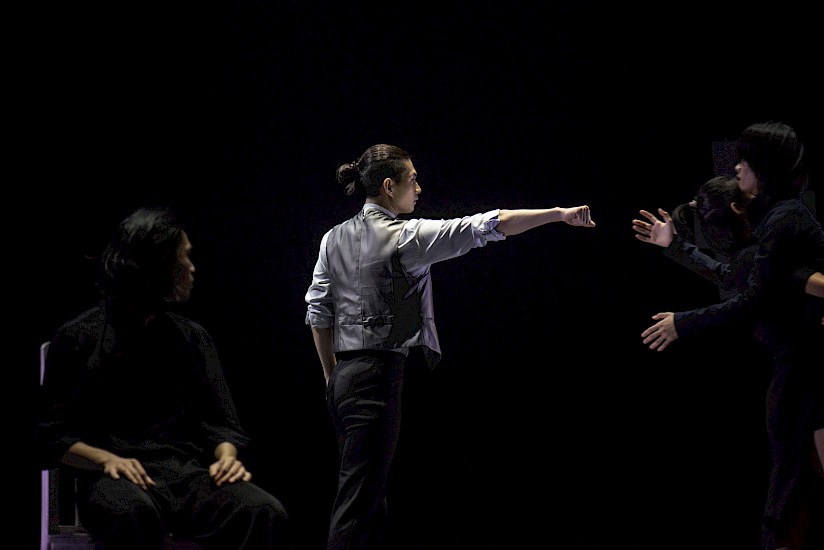 SU Zihao, independent dancer, Ergao Dance Center guest teacher, worked in Guangdong Modern Dance Company. Worked with Xing Liang(HK, CN) Sarah Foster(NZ) Xi- aoxiong Zheng (TW, CN) Chien-Ming Chang(TW, CN) Chien Wei Wu(TW, CN) Liu Qi(CN) Li Pianpian(CN) Tan Yuanbo(CN) Liang Jie(CN) . And he has preformed 7 works in company, such as Tiny, Beyond Calligraphy, Sumeru, Mass Solitude, Point One, Spring Tide, Black hole and Main Dishes. Then he has toured different countries with company. Besides he created 3 works, No Light, No Light 2.0 and The Last Full- moon. After leaving the company, he performed the theatre work We Are In The Same Wilderness. And credit the video work Regular Building with the visual artist Zhang Lu and other dancers. Besides he is still creating and teaching.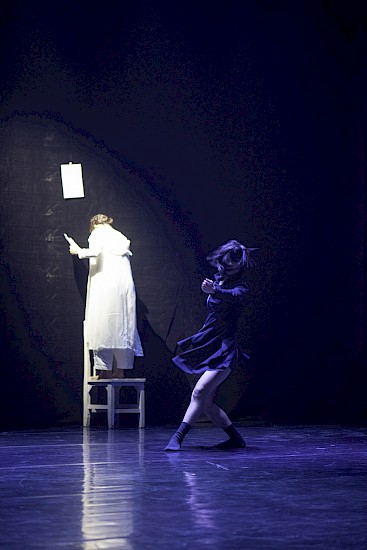 ---
The Diary of Cherry
Guangzhou - Hu Tengteng
Duration: 10 mins
Choreography:Hu Tengteng
Performance:Liang Wenting, Mao Minjie
Description
Feb. 3 Wednesday Sunny
May 9 Friday Overcast sky
Jul. 7 Thursday Rainy
Sep. 12 Monday Cloudy
Oct. 15 Sunday Sunny
Hu Tengteng
Hu Tengteng who has worked as a dance teacher at Sichuan Normal University, studied modern dance and Korean dance at Sejong University and Gyeongsang National University (Korea) from 2008 to 2010. He worked as a dancer in the Modern Dance Company from 2012 to 2016, during which he performed more than 30 dance works of many masters. Now he is an indie artist who has composed several dance works that has won unanimous acclaim.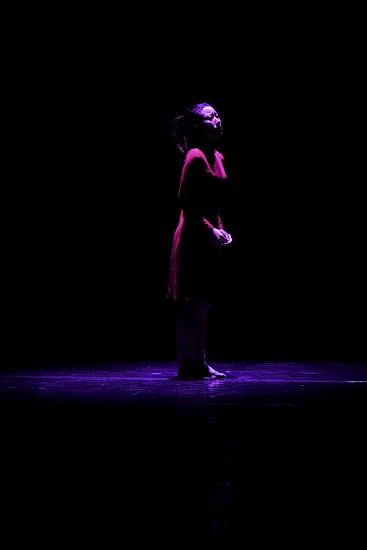 ---
Song of Puppets
Kunming - Enigma Dance Arts Creative
Duration: 30 mins
Choreography:Chen Xiewei
Music:Kenji Kawai
Performance:Chen Xiewei,Ayongga,Deng Dacai, Zhou Jinjin,Tang Xiaofan
Description
The flickering fire and the blood moon is the premonition of aberrance.
The shackle is untouchable. The gossamer is intangible. It is an inevitable fusion and annihilation.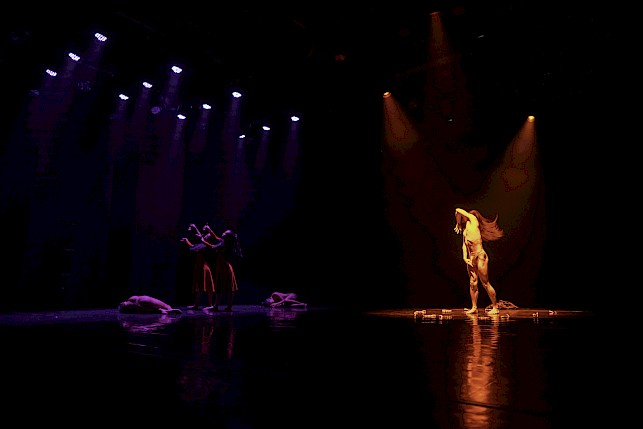 Enigma Dance Arts Creative
Enigma Dance Arts Creative is the first independent art organization based in Kunming Yunnan, who are dedicated to bringing diverse creative processes and concepts to the local community, focusing on creating original contemporary dance theatre pieces to propel the innovation and development in contemporary art. Collaboration and exchange are at the heart of our work. In recent years, we have worked closely with artists and art organizations globally, established an international platform to support young artists. We offer international master classes as well as an inclusive program with artistic vision and rigorous practice, which are open to both professionals and wider community.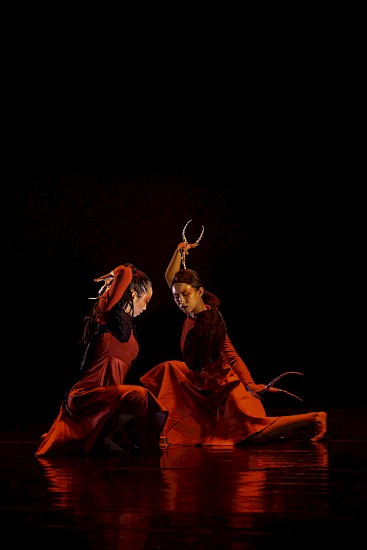 Chen Xiewei, who is an indie artist now, has worked in the Guangzhou Ballet and Guangdong Modern Dance Company. He has given performances in several countries like the US, Canada, Australia and Germany during the time when he was working in the companies. Later he was invited to participate in the creation and performance of the original dance drama The Peacock by the dance artist Yang Liping, and served as the director and producer of Yang Liping's Modern Dance Troupe. He was invited to serve as the producer of 2047 which is one of the masterpieces of Director Zhang Yimou, in charge of the dance art and behind-the-scenes works.