Dance the Trace At the Moment
Guangzhou X HK CN X MO CN
A Youth Dance Exchange Project in Pearl River Delta 
Guangzhou X HK, CN X MO, CN
The Guangdong-Hong Kong-Macau Youth Dance Exchange Program "Dance Track can Be Found" was jointly launched by Guangdong Modern Dance Company, Hong Kong Youth Square and Guangzhou Grand Theatre Children's Ballet in 2017. The project aims to provide a platform and opportunity for in-depth exchange of dance creation and performance among young people in the Greater Bay Area. Trace to be found "dance" first year creation ", mark "premiere in Hong Kong, 2018 project won the national art fund to xiamen, zhuhai, tour, in 2019, guangdong modern dance company in Hong Kong youth square, guangzhou again the children's ballet theater, he invited the four dimensional space in creation and in" guangdong cultural card "" guangdong modern dance week" premiere "track". This cooperation brings together nearly 20 young artists who live in Guangzhou, Macao and Hong Kong in the Pearl River Delta, sharing their lives through dance and inspiring each other's creativity through art. In 2020, Trajectory actively responded to the impact of the epidemic, and the creative team developed the idea of adapting stage works as dance images. The creation of 13 actors performing on the stage last year was adapted into dances in the scene and recorded with images. Since the trajectory is a dance record three creators of the trajectory of life, study, work, then we let the dance footprint tracing, return to trigger the creative environment, the "dialogue" with body, use camera track record, mix, spatio-temporal crisscross image, will lead the viewers on a journey with memory and hope life dance.
Dance video filming and release, in this era of distance become the new normal, all physical space produced a spirit of unity, the myth of the future and to create a more focused, thirst for stage is for everyone to dance study return to pure, to return to the beginner's mind, back to the community, the stage art back to life.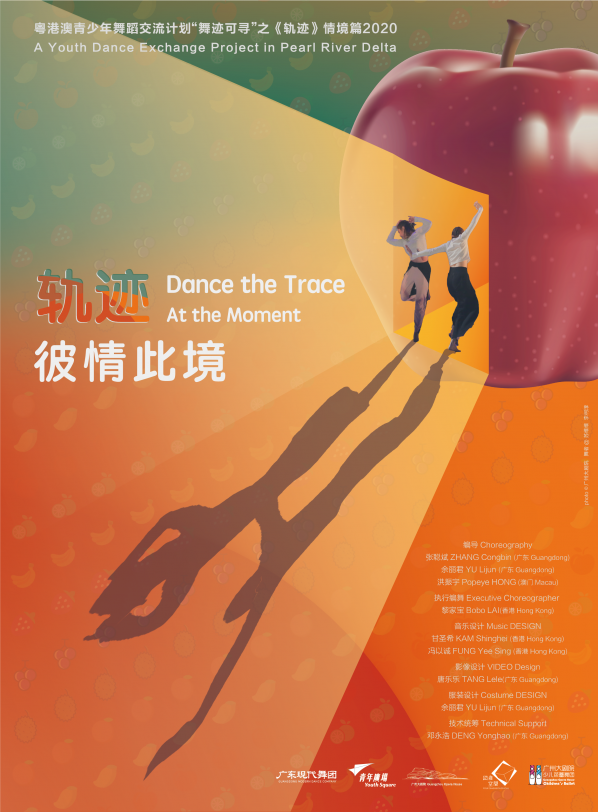 Director: Zhang Congbin, YU Lijun, Hong Zhenyu
Executive director: Bobo LAI
Music Design: KAM Shinghei, FUNG Yee Sing
Video design: TANG Lele
Technical coordination: DENG Yonghao
Costume Design: YU Lijun
---
Guangdong Modern Dance Company
Approved by the People's Government of Guangdong Province, Guangdong Modern Dance Company (GMDC), mainland China`s first professional modern dance company, was founded in 1992. It is internationally renowned for the exquisite and captivating performances. GMDC has been hailed by The New York Times as "one of the big success stories of international dance" and "a pacesetter with a difference".
Based in one of the most vigorous regions in China, the company has attracted some of the most talented and daring artistic in China. Works created by its dancers, resident choreographers, artistic directors and international guest artists have won critical acclaim and overwhelming audience responses around the word.
With a forward-looking, diversified, open and inclusive vision, GMDC has been invited to numerous remarkable international festivals in dozens of countries and regions. Its works have won critical acclaim and overwhelming responses from audiences and critics around the world.
Guangzhou Opera House Children's Ballet
Established in 2014, Guangzhou Opera House Children's Ballet is a youth performing company navigated by ballet talents' cultivation, bearing the significant mission of nurturing new blood of Guangzhou Ballet. Dedicated in cultivating and developing performing group for Guangzhou Opera House, Guangzhou Opera House Children's Ballet is an artistic group integrates ballet training and on-stage performances. To avail itself of art platform advantages, Guangzhou Opera House shaped a brand art training mode of "Class × Stage" for the Children's Ballet, working on offering every ballet-loving children quality instruction and ample performing opportunities, leading them to put knowledge into practice and grow into future stars on stage.
Youth Square
Youth Square is a project commissioned by the HKSAR Government's Home Affairs Bureau, and aims to realize the Bureau's vision and purpose in promoting social harmony and civic education. The project is managed and operated by New World Facilities Management Company Limited.
Target to become the perfect venue for youth to fully develop their potential, Youth Square provides wide range of facilities including theatre, studio, multi-purpose area, hostel, retail shops and offices to facilitate youth development activities.
Four Dimension Spatial
Four Dimension Spatial is a nonprofit artistic group, endeavoring to promote various forms, to explore different sites and to encourage local artists interacting with foreign artists. These years, Four Dimension Spatial has been advocating contemporary dance in Macau and experimenting different artistic forms.
Their works include: Macau Modern Dance Festival (2014), Macau City Fringe Festival Project Happiness (2014), Dance to The End (2015), Body Code (2016) and Cracks (2017), Dancing in the moment Dance Lad Project (2015-2017), Citizens Concert Exhaust (2016) and Memories, Mailing, Here (2017), The Programme of the multidisciplinary art Not Dreaming (2015)、Borrowingourbodies(2016) and Luxurious Study ‧ In three movements (2017), Coming Home (2018), Macao arts festival MauTan,katcheong(2019)ects.