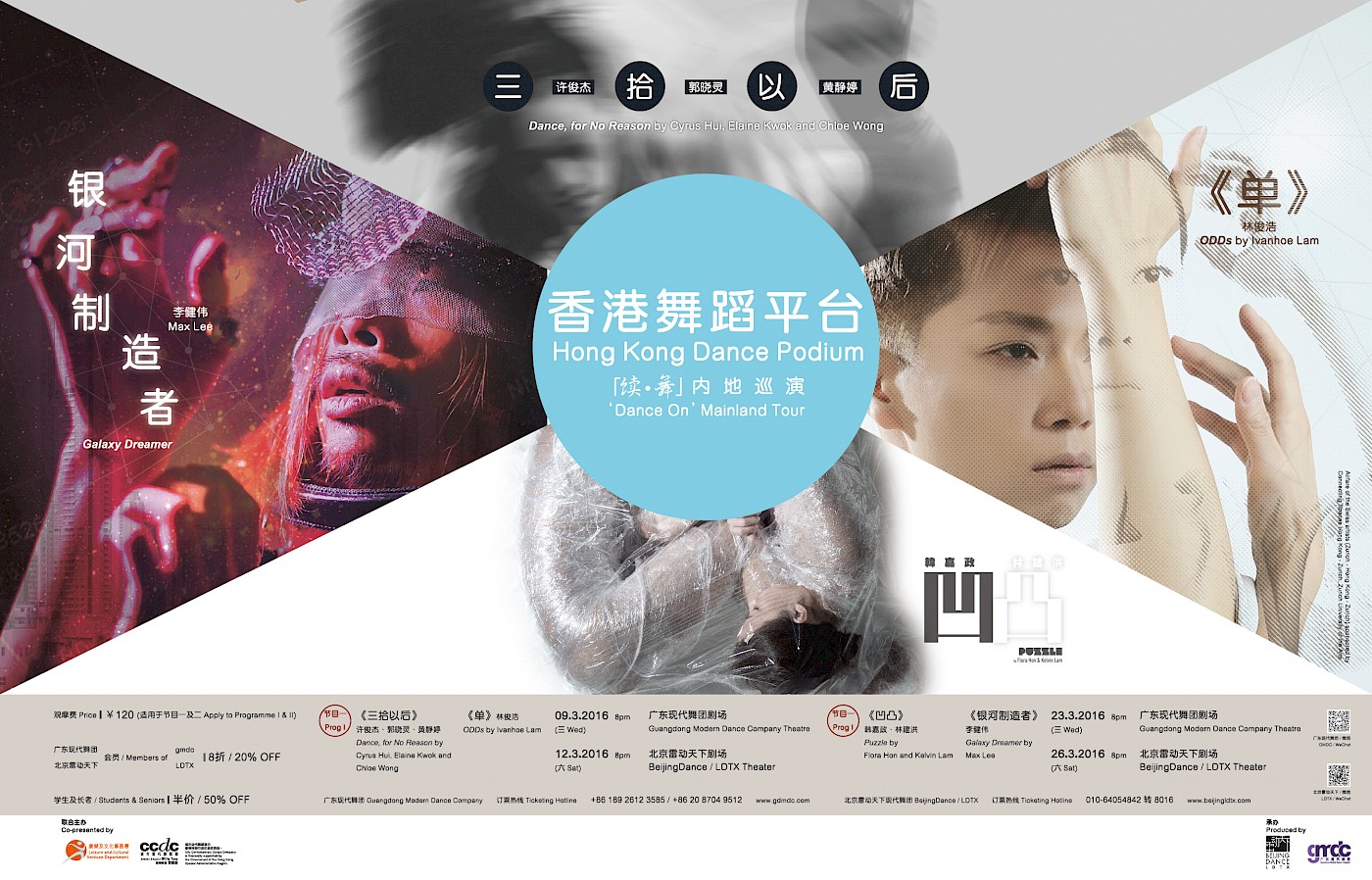 Hong Kong Dance Podium – Dance On Mainland Tour
Prog I
Dance, for No Reason by Cyrus Hui, Elaine Kwok and Chloe Wong
ODDs by Ivanhoe Lam
March 9th (Wed.) GMDC Small Theater:
Prog II
Galaxy Dreamer by Max Lee
Puzzle by Flora Hon and Kelvin Lam
March 23th (Wed.) GMDC Small Theater
Prog I
Dance, for No Reason by Cyrus Hui, Elaine Kwok and Chloe Wong
'In our dreams, we never have an age.'
Time passes, as accurate as ever, never missing a minute or a second. However, to any person, ten years' time can pass by at varying frequencies. The first two years may flash by fast. The two or three years that follow may go slowly, while the three years at the bottleneck may feel like a complete standstill. Until these ten years passed, one would realize that time just flashed like lightning. It was gone in the blink of an eye.
Ten years ago, Chloe, Cyrus and Elaine were pursuing a dancing programme at The Hong Kong Academy for Performing Arts. Upon the recommendation of their teacher, Ms Yeung Wai-mei, the three of them participated in the first i-Dance Festival held at the CCDC Dance Centre and jointly choreographed 'The Three of Poem'. The dance piece was later developed into a full-length creation as well as a dance video. Their bodies turned the ice cold iron stairs into a passionate set.
Later, in Hong Kong, Macau, Guangzhou, Beijing, Tokyo, Singapore, Malaysia, Wuppertal, Warsaw, New York… at different arts festivals, they have learned, observed and presented their own works such as Transitory in Nature.Audible Growth, Here It Goes Again, Solo as well as other major and minor works, in which they choreographed along the way.
'Dancing, what for?' The three of them gathered again after ten years, and this is the very question they were asking. However, I believe that words cannot convey the answer to question about dancing. The answer should best be expressed by the limbs and the body.
'In the past decade, what was your centre of attention during choreography?' This was the topic for discussion when the three of them rehearsed for the first time for Dance, for No Reason. One of them stood at the centre of the dance studio and danced solo for half an hour, while the other two observed on the side and then responded with their bodily movements. Here came their conclusion. Each of them has his own style but they can still resonate with one another without verbal communication.
Modern dance has encompassed a spirit of replacing the old with the new one? It is a never ending cycle that rolls along, establishing something new while breaking the old ones again and again.
'In which direction is our dancing heading? What is the new thing we have made? What are the old ones there for us to break?'
Between the process of establishing and breaking, time passes, as accurate as ever, never missing a minute or a second.

ODDs by Ivanhoe Lam
Individuals cross each other's path, a connection takes place.
The question is, however, whether or not we realize its existence.
Lam Chun-ho, Ivanhoe, a multi-discipline choreographer, will partner with Tsoi Wan-wa, Shirley, a multi-talent performer, and other team members - Swiss composer Benjamin Ryser, sound installation artist Fabian Gutscher, veteran stage designer Lee Chi-wai, and video designer Shing Pok-man - to forge an orbit within the soul that allows for introspection.
Prog II
Puzzle by Flora Hon and Kelvin Lam
To connect or not to connect, that is the question. Depends on my allocation.
How we contact, in fact, is a matter of desire.
A touch can be vague or solid; your body can move forward or backward – they activate much more than just the power of dance!
The divergence, recognition, needs and doubts hidden between the two genders are all triggered.
An eternal battle between men and women begins from a simple touch!
Galaxy Dreamer by Max Lee
Is this an abandoned person? Or an abandoned city?
Images and dance criss-cross to create a nebulous reality. As an allegory of real life unfolds, an existing yet invisible dreamer plies between dreams and a life where dreams are lost. He carves a starry sky out of a wasted city. Beauty comes from a kind of decay, and decay is actually a kind of enlightenment.