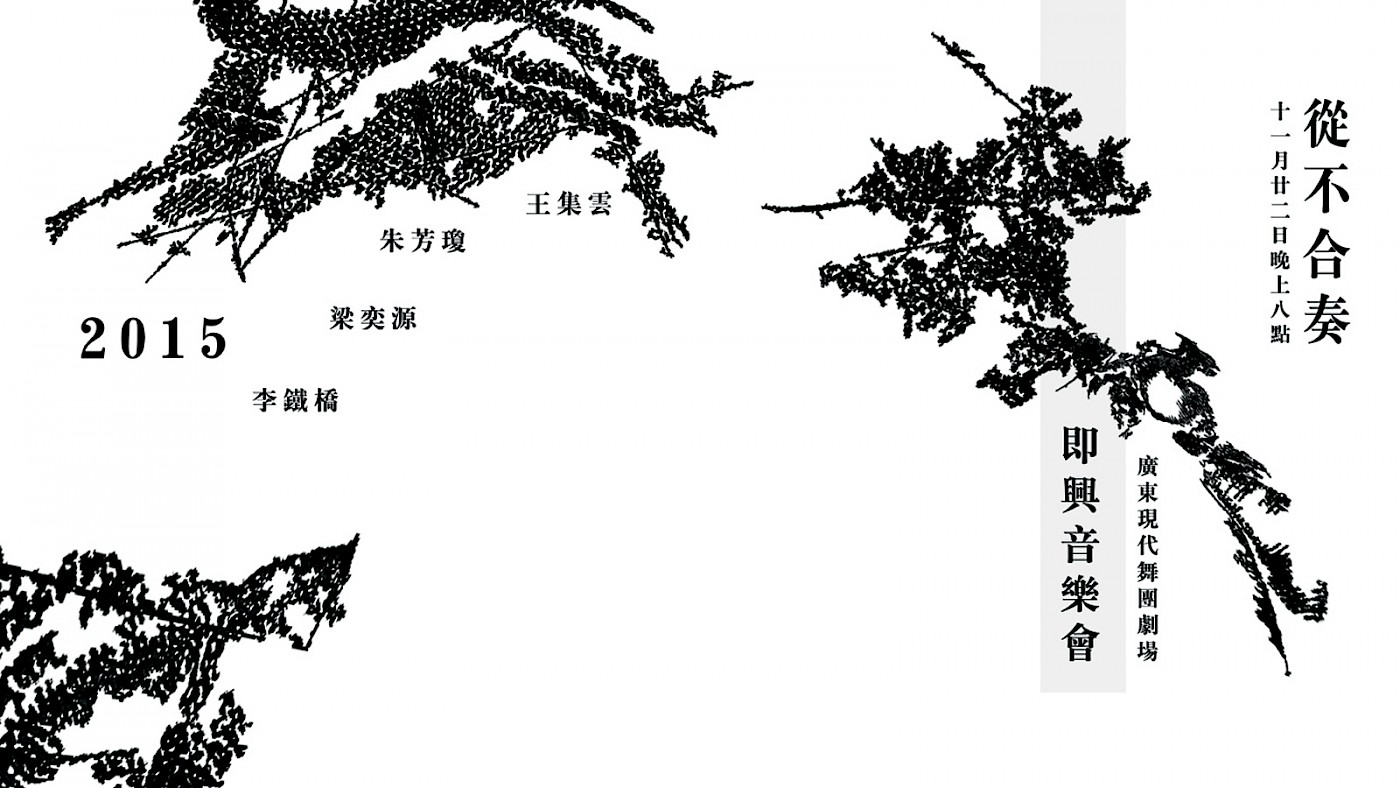 Never Ensemble
Li Tieqiao, Zhu Fangqiong, Han Ying, Liang Yiyuan, the free combination of four independent musicians, The style tends to world integration, free improvisation. The main works of music album, "the village pier". And they begin planning a series of impromptu performances in 2015 in the name of "never ensemble".
Musician Introduction:
Li Tieqiao: independent musician, composer, Sax crazy, electronic fellow people. Performance style involves rock, jazz, experiment, free improvisation. Born in 1973 in Hunan and now he is living in Beijing.He planned a project dedicated to the art of music, between various Eastern and Western styles of music, music and other art field cross-border cooperation. Li Tieqiao early in the fine pharmacy band worked as a Sax hand.From 2005 to 2007he was staying in Norway during the start of contact free improvisation. In 2009,he began to give modern dance and movie soundtrack. He joined the band in 2014 and gave the record is "the insult", "please give me a photo of a cousin," "the beauty of the melon 9+2" "the road to the north", "Nanjing", "the wind, they are crazy! "
http://i.xiami.com/litieqiao?spm=a1z1s.6632057.1392350353.7.CKYV0e
Zhu Fangqiong: independent musicians and singers. Born in Ningshan County, Shaanxi Province, China is now mainly in Dali, Yunnan.
http://site.douban.com/zhufangqiong/
Liang Yiyuan: born in 1977 in Wuhan, Yunnan. Experimental works involving electronics, minimalism, improvisation, and other types of music, also as the experimental images, drama and dance. The main works include "Chen Daochang", "send a schedule", "chicken rotten Ke temple on the sign" (with Li Daiguo), "a" shape etc..
http://i.xiami.com/liangyiyuan
Wang Jiyun (Han Ying): born in Yunnan in 1975, the young began to learn classical music (the cello), and graduated from Yunnan Arts University.He began independently to create music in 2004. In 2007, he published the individual's debut album "door", in 2004 he was in the world of multi culture and music in the field, to visit, collect, explore.Handmade instruments around the world such as: Xinjiang Tuvinians Suhl, Yunnan Lisu Di Li Tu, Khmu's dance, African nation that, caline Pakistan, Cora, India traditional musical instruments and musical instruments from Lidi class Schwartz, hoist drum, drum, three cycle.
In 2008 began to learn performance and to exchange musicians from all over the world. At the same time, he began to make the creation and recording of the new album. In 2014 recording of the new album "growth" is currently being prepared for publication. Music is mainly related to the world, nature, spirituality, impromptu music. He pursued and advocated harmony between man and nature, respect and regression.