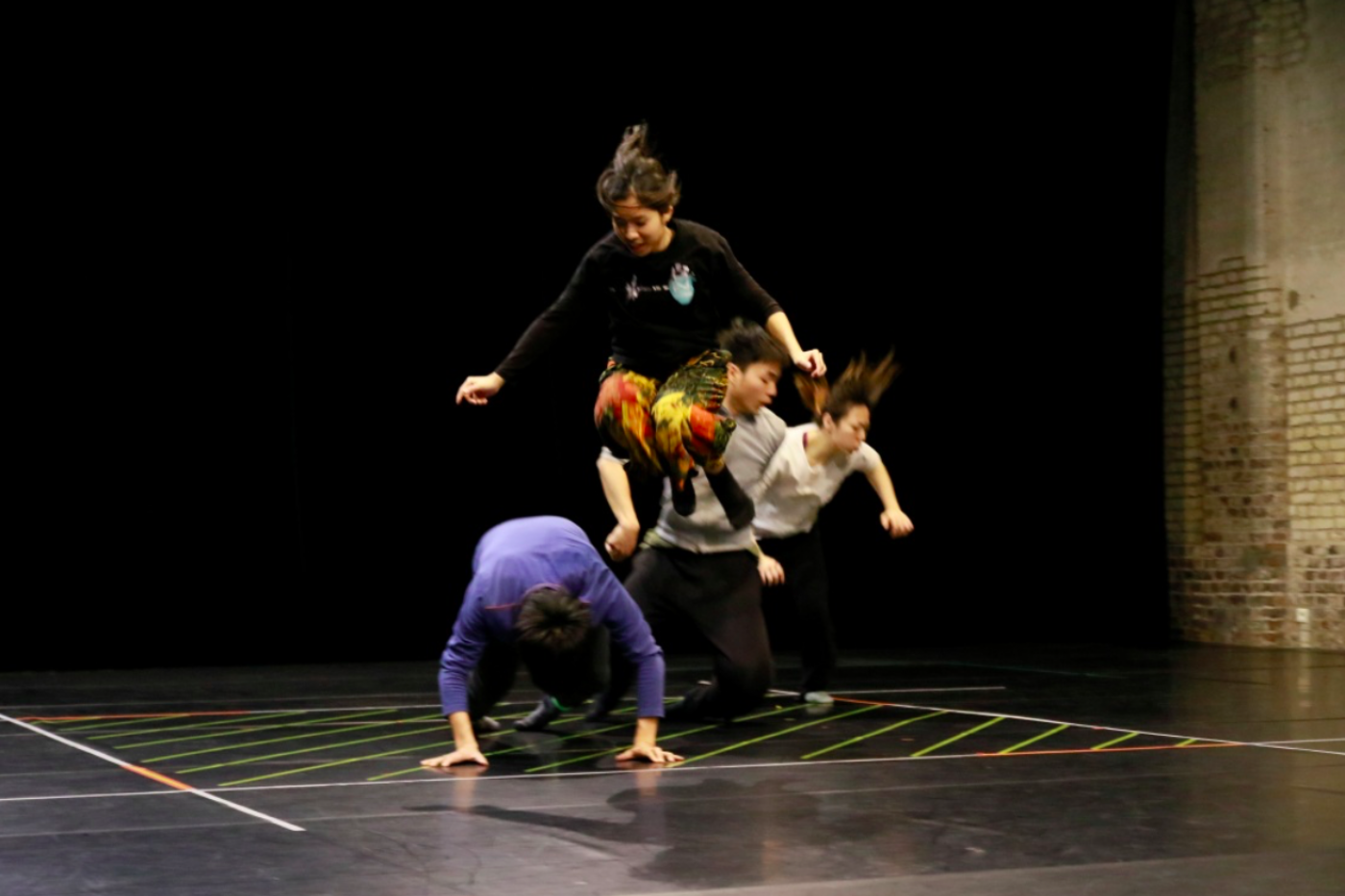 Company:Unlock Dancing Plaza
Choreography / Concept:Emmanuelle Vo-Dinh
Lighting:Françoise Michel
Music:David Monceau, Emmanuelle Vo-Dinh
Dancers:James Yau、Joseph Lee、Tracy Wong、Carman Li
【About the program】
The premise was simple, let's combine two childhood games: Simon says and the electronic parlour game Simon with its four coloured buttons where players have to recreate sequences associating sounds and colours. What they both have in common is the risk-taking, self-control, concentration, adrenaline rush… as well as the fact that both happen in a space of obedience and alienation.
With this basic idea of two games with four players, dancers from Hong Kong – who Emmanuelle Vo-Dinh met during a workshop there – travelled to Le Havre to continue working with her. Improvising, making and breaking rules as they went along, reflecting on the results, then letting go – a new challenge for the four more used to learning and assimilating choreographed steps – Simon says grew out of the artistic interface between these two approaches, blending efficiency, mastery, a love of games, and ever-reformulating situations. Between submission and rebellion, let the game begin!
【About the Choreography】
Emmanuelle Vo-Dinh is a choreographer of the social, physiological, psychological or mechanical phenomena, she picks precise facts, observes them, understands them, then transforms them into choreographic and plastic material. After the creation of her company Sui generis in 1997, she first started looking into emotions. She spent two months with neurologist Antonio Damasio in Iowa City to work on Texture/Composite (1999). She then read Jean Oury on schizophrenia, which inspired the play Sagen (2001). This was followed by a more minimalist cycle, based on the themes of repetition, time, and memory, a product of research, work and life experiences: Croisées (Crossroads, 2004), White light (2005) and Ici/Per(2006). The masculine/feminine dichotomy as well as a more formal research on the relationships between bodies, music and voice, have been the central axes of her work since 2007. Since 2012, she has been the director of the Phare, Centre chorégraphique national du Havre Haute-Normandie and her interest for science has progressively joined her research on fiction and narration to give her plays an additional dramatic dimension.
【About the Company】
Unlock Dancing Plaza, a promising modern dance company characterized by a unique style, was formed in 2002. Bold to innovate, the company is keen to collaborate and interact with artists from different disciplines in order to search for the intricacies of life and beyond. By liberating the constraints of the stage, the company strives to discover new ways to appreciate and experience dance.